Ask Me Anything Ep.3: Aron Stevens Talks Meeting Billy Corgan and NWA
Giancarlo Aulino
BarnBurner Sports Writer
Wednesday, December 12, 2018
---
Aron Stevens was back on Fired Up Tuesday night with the third episode of his newest show Ask Me Anything, which is now available on 101 platforms including: iHeartRadio, iTunes, Spotify, Stitcher, Tune In, SoundCloud, and of course Barnburner.ca.
BarnBurner founder Joseph Peisich, Steve Carney of WDAE radio in Tampa, and myself read some fan questions to Aron in the third episode. No topic is really off limits: current events, sports, wrestling, acting, Aron is willing to answer.
In this episode, Steve Carney had an excellent question regarding Bill Corgan, who is the front man of the popular band The Smashing Pumpkins and current owner of the NWA.
Steve: You've been around the wrestling business for a long long time. Coming into Impact Wrestling and working in Anthem, knowing that Billy Corgan was a big name in the music industry and he had his interest in wrestling, how surprised were you that Billy being someone from the outside of the wrestling industry coming in was able to take to it as quickly to what it was? And can you give what your initial meeting with Billy was like?
Aron: My thing was there was the old adage like "ohh, if you weren't brought up in the business and been in it 10+ years and you don't know anything and that," I never subscribed to that. I think there are people that have had brilliant ideas on their first day in the business and I've seen it, so I try to just approach everybody objectively especially when you're doing anything that involves something as creative as pro wrestling. I knew obviously of Billy because I was a Pumpkins fan growing…like I don't think you could have made through the 90s if you weren't a big Pumpkins fan. When I met him…it was Natalya, he is good friends with her and TJ I believe. So we knew each other through Natty kind of but I just reminder my initial talking to him… hey how you doing, nice to meet you. Somehow I don't know why, but we ended up talking Piper and Adonis at WrestleMania III which is my favorite match of all time. I know lately I really don't watch the product as much of I should but you know when it comes to the history of it, man I loved it…I really was very adequate in my knowledge of trivia and Billy was just telling me stuff about that match going "woah, okay. Right on." And then we ended up in this conversation about the first time I appeared as the intellectual savior and he kind of got why I did certain things like you know with the pink, where just yes aesthetically it looks ridiculous but you're going to stop at least if you're flipping channels you're going to say "what the hell did I just see?" and little ques like that and I think him you know having the level of success he had and by the way, that's all entertainment: music, film, pro wrestling, television…whatever you're doing, radio, podcasts over on 101 platforms now.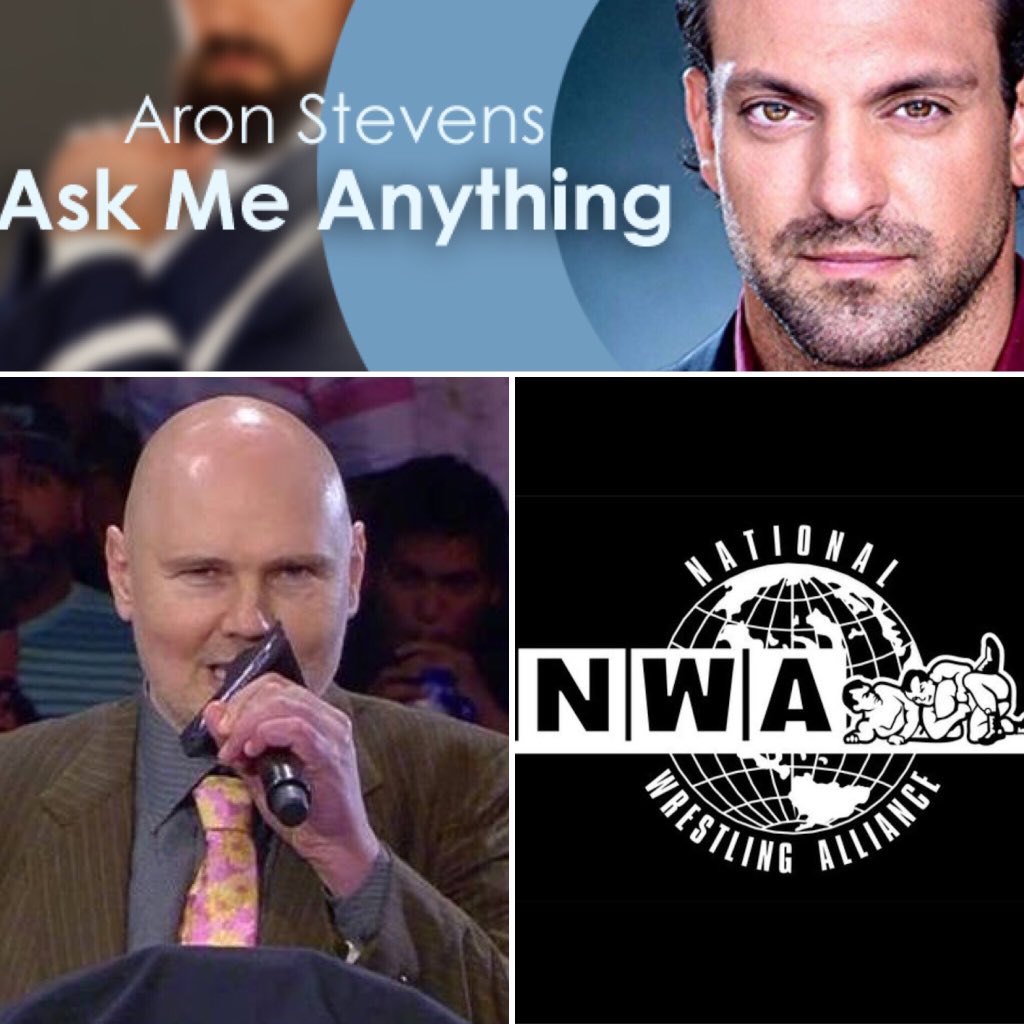 It was really really enlightening for me and he is someone I just don't have enough good things to say about him in the business or as a human being. I still am in contact with him fairly regularly and look what he is doing with the NWA and in my opinion, that is what's going to be like 2019 as things kind of start to shape in the business, its evolving constantly. Keep an eye out for the NWA because what he is doing, it is an old school formula put on a new platform and a new day that's not so old school where its boring, it's definitely moderned up but the kind of nuts and bolts of the NWA organization, it really really is starting to get traction and it's got my interest too. We joke about me putting the tights on like I've really never had like a desire since I've left but I'm watching NWA. Its definitely got my interest in terms of what they're going to do, how they're going to present that title, how they are presenting that title and I just think you're going to see a lot of good stuff coming and I think NWA is a place that is going to make stars in the future.
If you'd like to have your question answered by Aron, follow his Instagram account @thearonfiles and comment on his post for next week's episode. Also, don't forget to catch NBC's Midnight, Texas on Friday nights, where Aron Stevens has a recurring role this season.
Feel free to drop me a comment or suggestion:
E-mail - giancarlo@BarnBurner.ca
On Twitter - @Gian_411 and @ITZ_Podcast
Photo Credit: BarnBurner and @Gian_411