York 9 FC Drop Home Opener to Forge FC
Giancarlo Aulino
BarnBurner Sports Writer
---
York 9 FC were defeated 2-0 to Forge FC in their CPL home opener Saturday afternoon in a game that featured plenty of excitement, high quality play, and even a rain delay.
York 9 FC coach Jimmy Brennan went with a 4-1-4-1 formation with Nathan Ingham in-goal, Diyaeddine Abzi, Luca Gasparotto, Daniel Gogarty, and Morey Doner on the back-line, captain Manuel Aparacio, Rodrigo Gattas, Ryan Telfer, Wataru Murofushi, and Kyle Porter in the midfield, and Simon Adjei Karlsson as the lone striker up to.
York 9 FC assistant coach Carmine Isacco was back on BarnBurner's CPL Back of the Net show earlier this afternoon and talked about how excited he was for the inaugural CPL game at York's stadium. Carmine is also the master coach of York University's soccer program, so this must've been a thrill for him to be part of the first professional Canadian soccer game at York.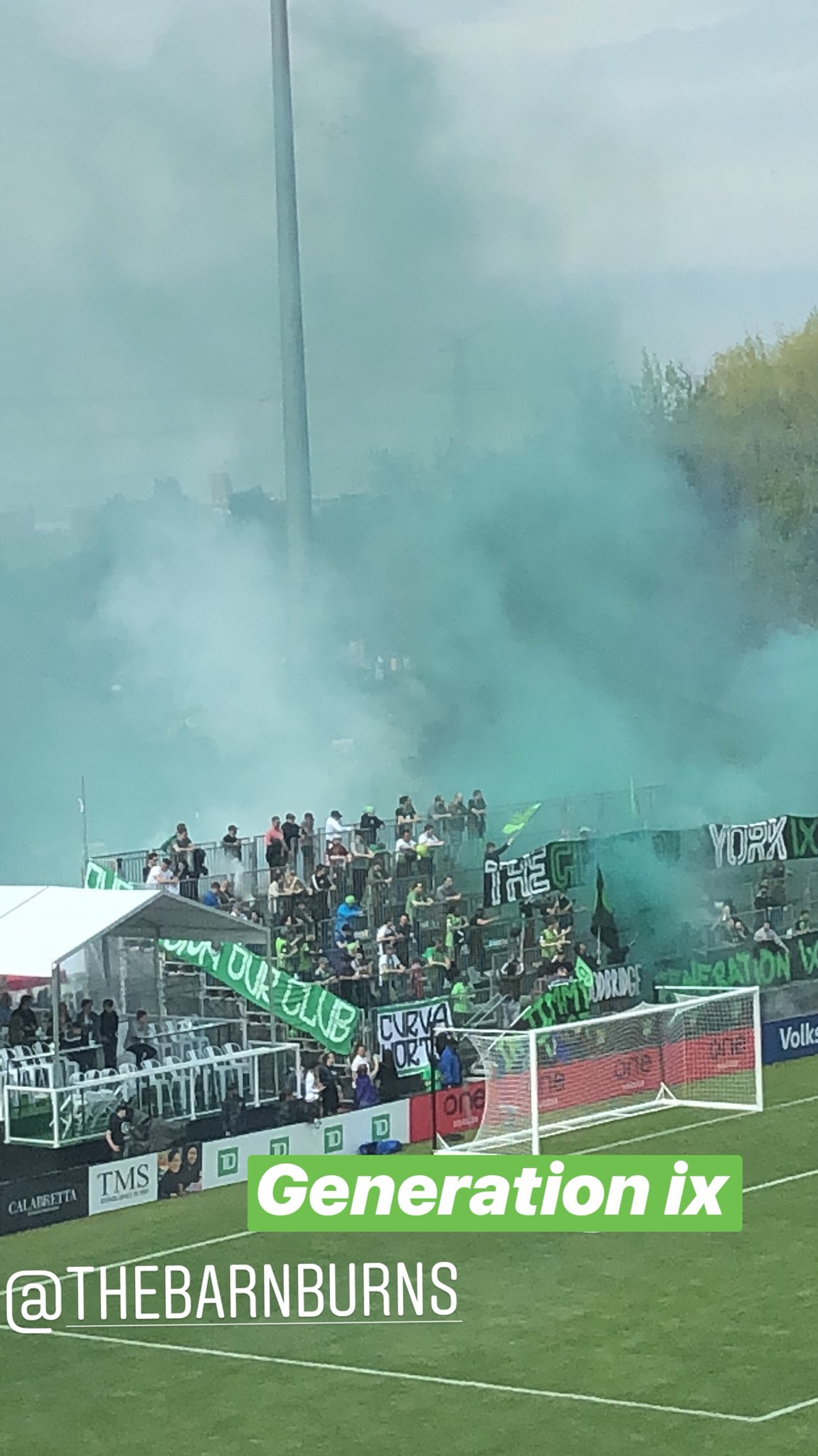 The York 9 FC supporter group Generation-IX was out in full force; they had green smoke to match the club's green, black, and white colors and were singing throughout the game. The supporter group as well as the fans provided for an energetic and festive atmosphere, which will help going forward because it makes attending the game a fun experience for all fans.
Forge had a few chances early on, but York 9 FC goalkeeper Nathan Ingham was there to make some critical saves that kept the score 0-0. York 9 would then carry some of the momentum to Forge's half of the field however, they didn't have success either and missed the net wide.
York 9 FC had a fantastic scoring opportunity off the counterattack in the 30th minute but Adjei Karlsson miss timed his pass and struck the ball too far from his teammate.
York 9 weren't done there as they would build off that play and continue pressuring the Forge defense and would get a few more scoring opportunities, but Forge goalkeeper Triston Henry came up big for his team and made the saves.
York 9's defense stood out in the first half especially their central defenders Daniel Gogarty and Luca Gasparotto, who perfectly timed their slide tackles to block Forge's scoring chances and bail out their goalkeeper Ingham when it looked as though he wouldn't be able to make a save.
York 9 had their best scoring opportunity in the 43rd minute however, Abzi struck a powerful shot over the bar.
All youth soccer clubs in York Region were represented during the game; a few clubs played a role in the pre-game ceremonies, and during halftime.
York 9 midfielder Emilio Estevez was subbed on in the 59th minute and immediately provided a spark off the bench. His speed and passing ability allowed York to push the ball forward and gain some momentum.
Due to heavy rain and lightning, the game was suspended temporarily for thirty minutes in the 61st minute. This is an interesting situation because the delay happened in the 61st minute, so both teams used the time as an extended half-time and had a 15-minute warm-up prior to play resuming.
Ryan Telfer had a great chance in the 68th minute when he struck a powerful shot on goal but that was stopped by Henry.
Forge FC would then take advantage on the counterattack with Kyle Bekker completing a great cross to the substitute Nanco, who scored to make it 1-0 in favor of Forge.
Forge midfielder Tristan Borges struck a perfectly placed shot past Nathan Ingham in the 78th minute to make 2-0, after a free-kick play allowed him to get an open shot on goal from outside the box. This is Borges' third goal of the season, which puts him at the top of the standings for goals scored this season.
York 9 have a resilient team so far this season and have managed to rally late and tie games this season but they weren't able to do it this afternoon as they dropped their CPL home opener to Forge 2-0.
Photo Credit: @gian_411