Toronto FC and DC United Play to 0-0 Draw
Giancarlo Aulino
BarnBurner Sports Writer
---
Toronto--- Toronto FC hosted DC United at BMO Field tonight in a game that saw them end their two game losing streak but unfortunately for them, it was a 0-0 draw and a game they arguably should've won.
Toronto coach Greg Vanney went with a 3-5-2 formation tonight with Quentin Westberg getting his second straight start in-goal, Chris Mavinga, Eriq Zavaleta, and Drew Moor on the back line, Auro Jr., Michael Bradley, Jonathan Osorio, Marky Delgado, and Nick DeLeon in the midfield, and Alejandro Pozuelo and Jordan Hamilton in the attack.
DC United also lined-up with a 3-5-2, so this game was going to be a midfield battle. DC came into this game with 24-points and first in the Eastern Conference standings while Toronto were coming into this game with 17-points and fifth place in the East standings.
The team were looking to bounce back from back-to-back 2-1 losses last week; they were defeated 2-1 in Atlanta and then again against Philadelphia at home on Saturday. Altidore came into Saturday's game after the 70th minute and looked good however, Vanney starting him on the bench again tonight could be just a precaution.
All eyes were on Wayne Rooney, who playing in Toronto for the first time in his MLS career. Rooney joined DC last July and has had a great 2019 season so far; he has six-goals, tallied four-assists, and is one of the most popular players in MLS.
It looked as though DC United got off to a quick 1-0 lead just one minute into the game, but fortunately for Toronto, the assistant referee's flag went up to signal that there was an offside offense. Toronto wouldn't get discouraged after that instead, they'd get a scoring chance off the counterattack when Alejandro Pozuelo lobbed the ball into the box for his teammate Jordan Hamilton, but DC goalkeeper Bill Hamid made a great save to keep the game scoreless.
Toronto had another goal scoring opportunity in the 23rd minute, when Pozuelo maneuvered himself around DC's defender but he struck the ball wide of the net. Toronto continued to control the game on the offensive end and after the 31st minute, they'd have multiple scoring opportunities in DC's box but they still were unable to finish.
Toronto's passing was an issue for DC United's defenders, and they were successful in freeing up the attackers for headers and second-chance opportunities off Hamid's rebounds.

Defensively, Toronto looked great as well; they looked composed when DC were on the counterattack and on multiple occasions, used Westberg as an outlet to pass and move the ball out of their own half.
Toronto carried over their attacking style into the second half; they were once again aggressive in their attack even with a high-quality striker like Wayne Rooney on the pitch. Even though the score was tied 0-0, Toronto dominated the possession in DC's half of the field and scoring opportunities were in their favor.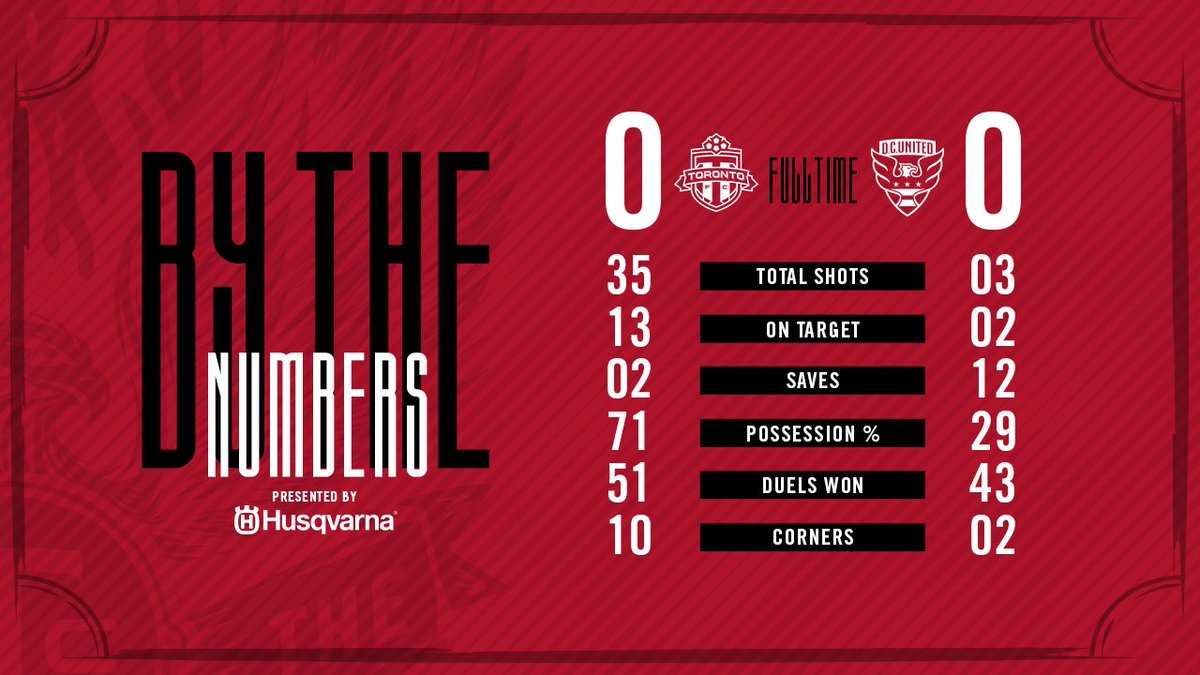 Toronto FC put up an impressive stats; they put up 20 shots total in the first half alone and finished the game with 35 shots total, with DC United only managing to get three shots total for the entire game.
All in all, Greg Vanney was happy with the team's effort in this game and mentioned it was frustrating that they couldn't get a goal:
"

We are all really frustrated, at the end of the day you have to put the ball in the back of the net. I'm happy with the effort."
Toronto FC are back in action Saturday at 3pm, when they travel to Rio Tinto Stadium to take on Real Salt Lake.
Photo Credit: Toronto FC