Seattle Sounders Defeat Toronto FC to Capture Second MLS Cup in Four Years
Giancarlo Aulino
BarnBurner Sports Writer
Sunday, November 10, 2019
---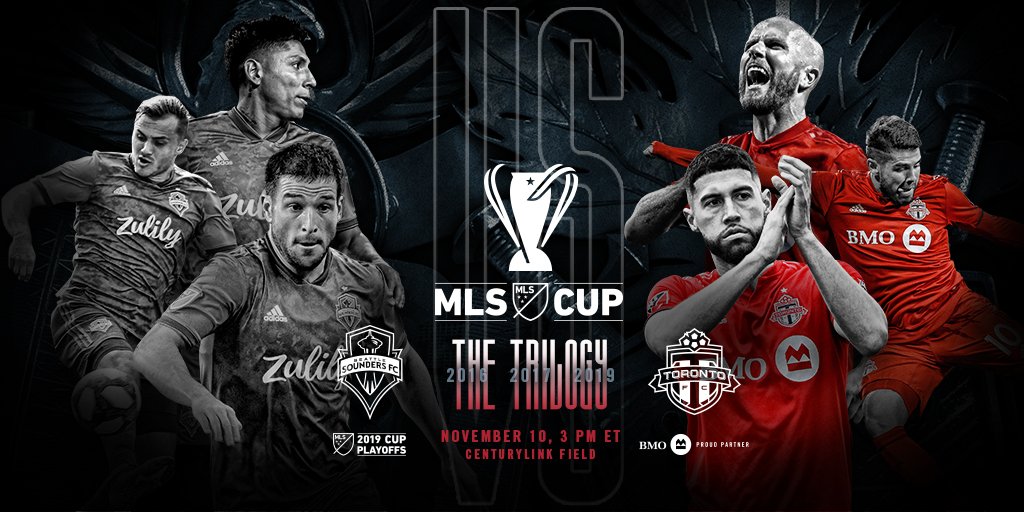 Seattle, WA--- For the second time in four years, the Seattle Sounders are MLS Cup Champions. Raul Ruidiaz used his explosive pace to run past Toronto defender Chris Mavinga and chipped the ball over Quentin Westberg, to give the Sounder a 3-0 lead and put the MLS Cup out of reach for Toronto.
Jozy Altidore scored a header in the 93rd minute, but it was too little too late as there wasn't enough time remaining in stoppage time for Toronto to get two goals.

Toronto and Seattle were meeting in the MLS Cup Final for the third time in four years and were looking to settle the score; Seattle defeated Toronto in penalty kicks to win in 2016 and Toronto then defeated Seattle to win the MLS Cup in 2017.

With Omar Gonzalez and Jozy Altidore being available to play in the finals, Toronto FC head coach Greg Vanney made some adjustments to his starting-XI and went with a 4-3-3 formation; Quentin Westberg stating in-goal; Justin Morrow, Chris Mavinga, Omar Gonzalez, and Auro Jr. on the backline; Jonathan Osorio, captain Michael Bradley, and Marky Delgado in the midfield; and Nicolas Benezet, Alejandro Pozuelo, and Tsubasa Endoh as the attacking trio up-top.


The game was back-and-forth early on in the first half however, Toronto began to control the midfield and the tempo of play as the half progresses. Toronto's midfielders did an excellent job with their link up plays with one another, which allowed Pozuelo to have extra time and space to create plays for both Benezet and Endoh in the attack.


Westberg came up big for Toronto late in the first half when he made an incredible save off Seattle's counter attack to keep the game scoreless. The 34-year old has played a pivotal role in Toronto's success this season and these playoffs, and has been a remarkable story for the team this season since taking over the starting goalkeeper position from Alex Bono.


The Sounders scored in the 57th minute, when Kelvin Leedram shot deflected off of Morrow for the own goal. The goal fired up the crowd at CenturyLink Field, which had been a little quiet following some anxious moments and at the same time, .


Seattle added another goal in the 76th minute when their aggressive attack and constant pressure caused Toronto to turn the ball over and allowed Victor Rodriguez with enough space to strike a perfectly placed shot past Westberg, to make it 2-0.


When discussing what went wrong for Toronto, Vanney mentioned that there was "too much dwelling on the ball led to time being lost all over the field, which led then to turnovers and led to transitions and momentum shifted....and then we were there trying to battle it back."


There are going to be many questions that the management will need to address now that the season is over as they look to regroup for next season. The biggest question is whether captain Michael Bradley will be back next season and at what price. Ahead of the MLS Cup Final, Toronto FC's social media posted a video congratulating Bradley, who was about to suit up for his 200th match for the club.
Number 2️⃣0️⃣0️⃣ back where it all started. Congrats, cap! pic.twitter.com/nYurmpHNKG

— Toronto FC (@TorontoFC) November 10, 2019


Photo and Video Credit: Toronto FC (TorontoFC)