RIP Alex Trebek and Thank You
Scott Churchson
BarnBurner Sports Writer
---
The year was 1984. 23 year old Wayne Gretzky racked up 205 points on route to the Oilers first Stanley Cup, Cabbage Patch Kids were all the rage, and a comedy called Ghostbusters ruled the box office. It was also the beginning of a legacy. A popular game show called Jeopardy, which had run from 1964-1975 & again from 1978-1979 had been rebooted, and a relatively unknown Canadian named Alex Trebek was its new host. Today, on November 8, 2020, after hosting a whopping 8,173 episodes (more than any game show host in history), Alex Trebek passed away at the age of 80.

Alex Trebek in 1963.

No stranger to television & radio, Alex Trebek got his start reading for the Canadian Broadcasting Company all the way back in 1961. In time, he was reading for their national news covering curling, horse racing and anything the CBC would offer him. Throughout the 1960s he would continue to grow his career; first hosting the Canadian music program Music Hop in 1963, Vacation Time in 1964, Reach for the Top in 1966 and Strategy in 1969. In the 70s he moved to the United States, again building the reputation as one of the hardest working men in the industry by hosting several game shows with varying levels of success. I was first introduced to him in 1982 when he hosted a little known show called Starcade where teens played arcade games in the hopes of winning money and the arcade games themselves. As a 6 year old; that was the greatest game show of all time.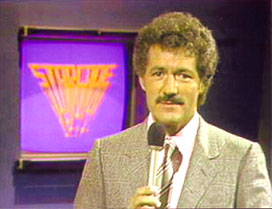 Alex Trebek talking Donkey Kong is a combination that's just plain odd.


The first ever episode of Jeopardy and the beginning of a legacy

Then, in 1984, after original Jeopardy host Art Fleming declined to host the show for a third time, the role was offered to Alex, classic moustache and all and the rest is history. Throughout the decades, with Alex at the helm, Jeopardy became a staple of early evenings with more memorable moments than I have time to mention here. From walking out without pants on one show at the suggestion of all time Jeopardy winner Ken Jennings to Celebrity Jeopardy with cast members from Law and Order to Breaking Bad, to Hall of Fame athletes and everyone in between. Alex even made a cameo in the SNL skit Celebrity Jeopardy; meeting Will Ferrell playing himself.


Pants optional.
In an ironic and humorous twist, on April Fools Day 1997 he switched places with Wheel of Fortune host Pat Sajak and hosted an episode of Wheel of Fortune (with Pat's wife Lesly replacing Vanna White) while Sajak hosted Jeopardy.


Alex Treback: The Wheel of Fortune Host (full episode)
In 2017 he was named an Officer of the Order of Canada; the second highest honor for meritorious service that Canada has to offer for "his iconic achievements in television and for his promotion of learning, notably as a champion for geographical literacy."

To call his passing at the age of 80 a loss for game shows and television in general is an understatement; his kind demeanor and persona MADE Jeopardy a staple of television for the past 36 years. I won't go into his battle with pancreatic cancer and eventual passing. I'd rather focus on what he brought to us every evening and how his combination of warmth and class made our evenings better while teaching us a few things in the process. From the bottom of every heart in North America, thank you Alex Trebek, for being a host, for being a teacher, and for being a friend to us for all these years.
RIP George Alexander Trebek OC, and thank you.