Georges St-Pierre Officially Retires From MMA
Giancarlo Aulino
BarnBurner Sports Writer
Friday, February 22, 2019
---
Former UFC middleweight and welterweight champion Georges "Rush" St-Pierre officially announced his retirement from MMA on Thursday during a press conference in Montreal, Quebec. The Canadian MMA icon last fought at UFC 217, where he defeated Michael Bisping to become the new UFC middleweight champion. After experiencing some health issues, St-Pierre vacated the championship and took time off to recover with hopes of fighting again under the right circumstances such as opponent, financial gain, and legacy.
Earlier this month, it was reported by multiple media outlets that St-Pierre's team were in negotiations with the UFC about setting up a fight with reigning UFC lightweight champion Khabib Nurmagomedov for the lightweight championship or a catchweight bout. Both fighters were interested in the bout and Khabib had been vocal in the past about wanting to fight GSP; he said he wanted to fight GSP during his post-fight interview at UFC 223 after defeating Al Iaquinta to win the vacant lightweight championship.
After the fight with Khabib didn't come to fruition, St-Pierre decided it was time to officially retire from the sport as opposed to continue fighting against opponents that wouldn't really impact his legacy in MMA. With regards to the negotiations for the fight with Khabib, St-Pierre mentioned that:
"We start thinking about it right before the fight with Conor McGregor because we start talking before the fight he had with Conor and after the fight with Conor… the whole thing happened…the whole drama unfortunately. We were trying to make that happen. That was the legacy fight."
During his career, St-Pierre had many achievements in his career including: 2x UFC welterweight championship, UFC middleweight champion, most consecutive title defenses in the UFC welterweight division (9), most decision wins in UFC history (12), Rogers Sportsnet Canadian Athlete of the Year 3x, Sports Illustrated Fighter of the Year 2009.
In addition to his achievements, St-Pierre has defeated a whos-who of MMA greats and former champions; he defeated former UFC welterweight champions and UFC Hall of Famers Matt Hughes 2x, Matt Serra, and BJ Penn 2x, while at the same time avenging his only career losses, former UFC lightweight champion Sean Sherk, former Ultimate Fighter winner and middleweight champion Michael Bisping, and former Strikeforce middleweight and welterweight champion Jake Shields, who had a 15-fight win streak at the time.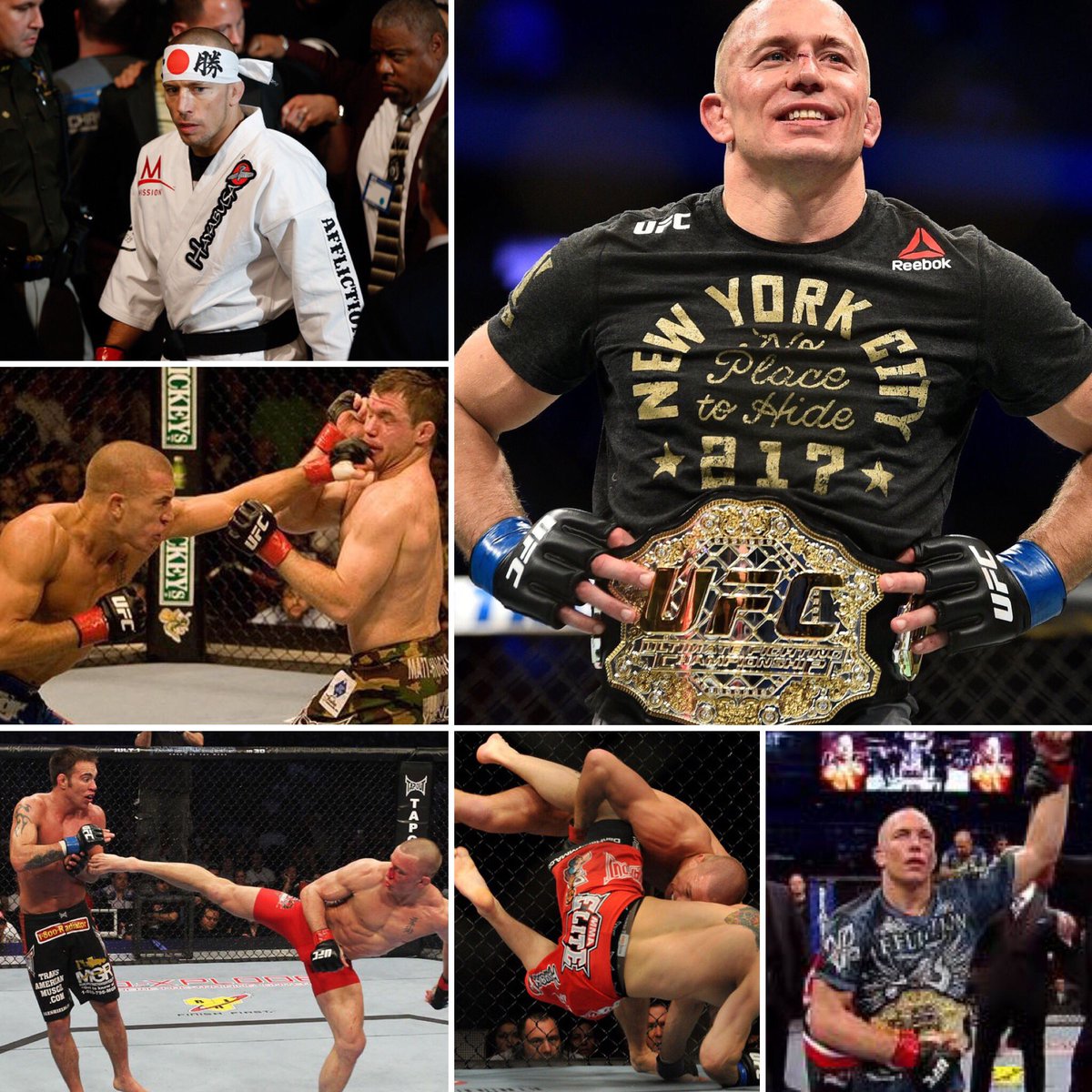 Although St-Pierre announced his retirement, he did tell Ariel Helwani "never say never" when responding to a question about potentially coming out of retirement in the future. Those comments show that St-Pierre would at the very least listen to an offer and make the decision if it'd be the right fight. Those comments leave fans with some hope that the door may not be completely closed for a potential GSP vs Khabib fight and that if the timing works out, maybe the UFC do approach GSP and attempt to set up the bout.

St-Pierre has been an excellent ambassador for the UFC and the sport of MMA. After vacating his welterweight championship in 2013 and taking a hiatus, St-Pierre was vocal about the need for more stringent drug-testing in the UFC and MMA as he felt there were too many fighters that were gaming the system and not providing an equal playing field for those competing. During his hiatus, the UFC signed an agreement with USADA to do just that and so far, there have been many fighters that have been flagged for banned substances and have faced strict suspensions as a result.
St-Pierre walks away from the sport as one of the greatest MMA fighters of all-time. In terms of accolades, longevity, quality of opponent, and championship success, there is no denying that the Canadian will eventually be recognized as a UFC Hall of Famer, maybe even as early as this July.
Here is some of the reaction to Georges St-Pierre's retirement:
Ken Shamrock (UFC Hall of Famer)
"GSP was a great role model on how to go about your career & not to let anything or anyone make you change who you are. I have the upmost respect for @ GeorgesStPierre & he will be great at whatever he chooses to do next! #KenShamrock"
Cub Swanson (UFC Featherweight)
"I wish more fighters were like GSP and less like Colby"
Cris Cyborg (Former UFC Women's Bantamweight Champion)
"@ GeorgesStPierre I hope you're blessed in whatever you do from here #gsp"
John McCarthy (Bellator Announcer and former MMA referee)
"I was lucky enough to officiate 7 of @ GeorgesStPierre fights in the Octagon including his first championship fight and his last. GSP it was always an honor to work your fights & I hope you dominate retirement just like you dominated the @ufc cage!! Thank you for being a class act"
Feel free to drop me a comment or suggestion:
E-mail - giancarlo@BarnBurner.ca
On Twitter - @Gian_411 and @ITZ_Podcast
Photo Credit: @UFC and @ITZ_Podcast