Bellator Signs Fedor Emelianenko to Multi-Fight Extension
Giancarlo Aulino
BarnBurner Sports Writer
---
Bellator MMA announced that they've signed 'The Last Emperor' Fedor Emelianenko to a multi-fight extension, that'll see the legendary heavyweight finish his career in the promotion.
Emelianenko recently competed in Bellator's Heavyweight Grand Prix, which saw him defeat former UFC Heavyweight Champion Frank Mir and Chael Sonnen to advance to the finals, where he was defeated by Bellator Light-Heavyweight Champion Ryan 'Darth' Bader. There was speculation as to whether the fight with Bader would be the last time fans saw Emelianenko in the cage however, it looks as though the 42-year-old still has a few fights left in him.
Emelianenko is a former PRIDE Heavyweight Champion and has defeated a who's-who of MMA legends including: Antonio Rodrigo Nogueira, Mark Coleman, and Frank Mir.
Bellator President Scott Coker was excited to have the Russian MMA legend continue his career in Bellator. Coker and Emelianenko have had a great relationship, so it wasn't surprising to see that Bellator will be where Emelianenko concludes his legendary career. In a press release, Coker gave his thoughts on signing Emelianenko to a multi-fight deal:
"I am pleased that we were able to sign Fedor, the greatest heavyweight of all time, to a new contract extension."

"He is someone that I consider a friend in this business and am even more pleased that he has decided to finish his storied career with Bellator. There are exciting matchups for him here in Bellator that I know will appeal to his fans from the past, as well as new fans from his recent run in the tournament. As his time in the sport winds down, I am happy to see him close out his career on his own terms

."
There are many interesting fights that Bellator could set up, but that fight that makes the most sense is Fedor Emelianenko vs Quinton 'Rampage' Jackson. The two have provided many highlight reel knockouts during their legendary careers, but they have yet to fight one another.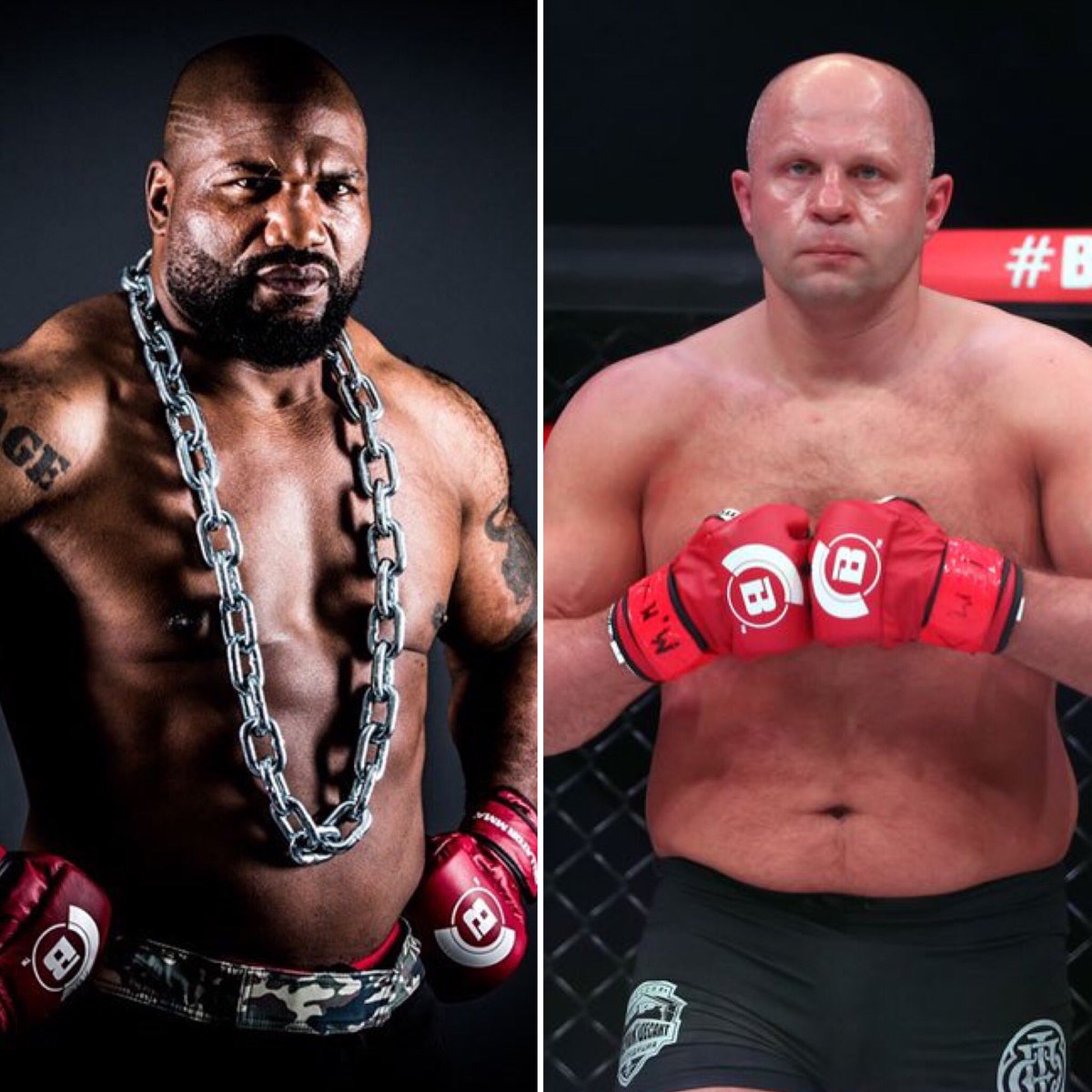 Both Emelianenko and Jackson competed in PRIDE FC, where they were among the top fighters in the world. They also have a similar fighting style in that their strengths are when the fight is in the standup as opposed to the ground. It was surprising that when Bellator Heavyweight Grand Prix was announced, both fighters were in the same bracket but had different opponents; Jackson fought Chael Sonnen and Emelianenko fought Frank Mir. Had the bracket been swapped, fans would seen the two legends fight at the start of the tournament.
A potential Fedor Emelianenko vs Quinton 'Rampage' Jackson fight would be perfect in the co-main event spot on Bellator's DAZN card featuring the finals of the Welterweight World Grand Prix between Bellator Welterweight Champion Rory MacDonald and Douglas Lima. The two fights paired together would build plenty of interest from MMA fans who grew up watching Emelianenko and Jackson as well as the diehard MMA fans that want to see two of the best welterweights fight in the main event.
Photo Credit: Bellator MMA and gian_411