The New York Giants: From Worst To Worst Since 2017
Scott Churchson
BarnBurner Sports Writer
Saturday, October 24, 2020
---
I used to work in IT; basically as the guy you'd call up and yell at, scream and berate that we screwed up your computer until you realize that those adult sites you've been burning your work hours on 3 times a week put viruses on your computer. One of my bosses (I in fact had 6) was a gentle giant named Ron. Ron was a die hard Giants fan for over 50 years and yearly & proudly sat in the nosebleeds at Giants Stadium game after game; in a 25 year stretch he only missed one game due to a life-saving triple bypass & was back in the stands the following week. When he passed, his wife had him buried in his Giants jersey. I've thought about Ron a lot of late; as a long time Giants fan myself dating back to the early 80s I wonder how he'd manage these days. I'm writing this the day after watching the Giants blow an 11 point lead with 5 minutes left in the game to the hated division rival Eagles. A game that, despite a win getting their record to a laughable 2-5, had the potential this week to put them in a first place tie in the equally laughable NFC East. As a fan, this game broke me. Emotionally just broke me.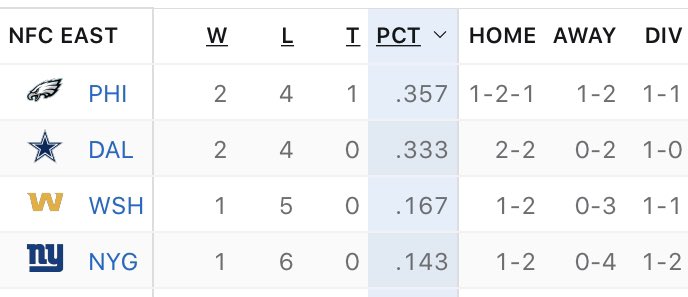 The NFC "Least" is currently 2-15 against teams outside it's division.

The New York Giants are what you would call: Terrible. I mentioned in an earlier article how the New York area as a whole was a miserable place to be a sports fan. At the center of that misery is the New York Football Giants. The once proud 95 year old franchise was home to many Hall of Famers such as Mel Hein, Rosey Brown to Lawrence Taylor, Michael Strahan & soon to be Eli Manning. Sorry haters, he's getting in. Now, it is a team that has gone a combined 13-42 since 2017; the worst record of any team in the NFL during that stretch. A team with one winning season since their Super Bowl run in 2012 and one single playoff game during an 8 year stretch where they were crushed 38-13 by Aaron Rodgers and the Packers.

"Believe in the Giants? I'm sorry Dave I'm afraid I can't do that."
Much of the blame during this stretch has to fall on General Manager Dave Gettleman. Dave Gettleman, while no one would argue is a kind, loving person, has made decisions that are often questionable at best; embarrassing at worst since taking over as GM in 2018. Decisions such as drafting Saquon Barkley who while an absolute talent when healthy will have missed 17 games in his first three years due to injuries. First-round pick DeAndre Baker is facing four counts of armed robbery with a firearm & was waived by the Giants after a single season. Daniel Jones, bafflingly taken at 6th in last year's draft has to his credit had moments of potential but difficulty not turning the ball over with 19 interceptions and 23 fumbles in his first 20 games. Yes I have to mention: Last night on a brilliant play from scrimmage Daniel Jones took off untouched for what would have been an 88 yard touchdown run only to get tripped up by the air and tackled at the 10 yard line. Even when things go right they go wrong, because Giants Gotta Giant.


Giants season. Defined.

Lastly and embarrassingly not least there's Odell Beckham Jr. In a move that confused many, in a time when the team DESPERATELY was in need of a rebuild, Gettleman signed the all world talent to a 5 year 90 million dollar extension; played him for a year, went on record to say, "We didn't sign Odell to trade him," then promptly sent him to Cleveland 13 days later; costing his employers an additional $13 million of the contract that wouldn't have happened if he was traded 2 weeks prior.



Remember this? There was hope then.

There's no light at the end of this tunnel as this team is still minimum 3 years away from being competitive with the rest of the league. Again, Dave Gettleman is a beloved human being; married, three kids, battled lymphoma so I hate talking bad about the man. But under his reign the team is 10-29 and this storied 95 year franchise is a league laughing stock. There's talk that Gettleman might be fired soon after this latest loss and Patriots Director of Player Personnel Nick Caserio has been named as a possible replacement. This could work; as both he and Giants head coach Joe Judge worked together in New England for 8 years. But I'm skeptical; this is a team that has a habit of getting in the way of it's own success but I'll hold onto hope; even a fool's one. As for my former boss, he passed away in 2013 & got to see his beloved Giants pull off another upset Super Bowl win against the Patriots before going downhill. Perhaps in Heaven the Giants are a good football team. Because here on Earth, the NY Giants are Hell.