The Lighter Side of Sports - June 21st, 2018
Thursday, June 21, 2018
Woman's Epic World Cup Play by Play Goes Viral
The World Cup is upon us, and due to time zone differences, many avid futbol fans across the world have a hard time catching a game. For one dude, a simple favour ended up making his girlfriend a viral hit.
Twitter user @lightningstarr , who is based in London, England, explained that her boyfriend asked her to update him on what was happening in the England vs. Tunisia match during his drive home.
Hilarity ensued.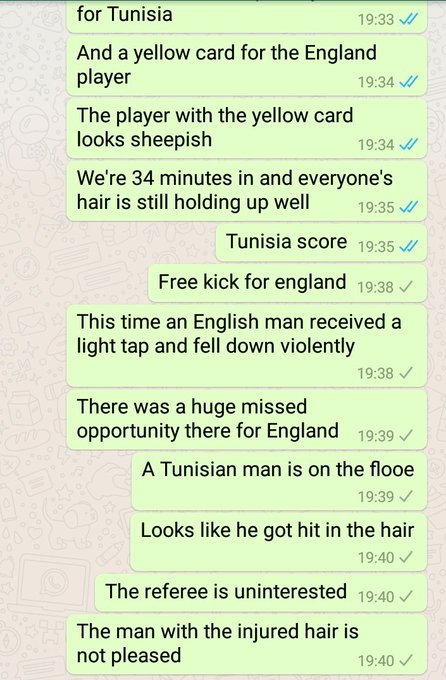 lightningstarr

@lightningstarr

My boyfriend asked me to text him updates from the #ENGTUN game as he's on his way home. You can't say it's not accurate. #WorldCup

2:44 PM - Jun 18, 2018
This beyond accurate play by play is literally what all f us are thinking during a match.
Hopefully she keeps it going.
Who Wore it Better? NBA Edition
Ah Lebron. Setting NBA records is his game. But fashion trends?
During the NBA playoffs James wore a shorts suit which cost a whopping sixty four thousand dollars.
Following suit (see what I did there ) Draymond Green was subject to donning this awful trend during the NBA Finals.
And now, the youngin's are copying the trend.
Ah, the NBA Draft. Where dreams come true and fashion goes to die.
New Hawks rookie Trae Young topped his night off sporting a maroon suit short outfit, and a black bow tie. Young's little brother was also at the draft, matching his suit.
Yahoo Sports NBA

✔

@YahooSportsNBA

Trae Young is taking his cue from LBJ and Dray. #NBADraft

5:58 PM - Jun 21, 2018
Aww. But no.
Iranian Futbol Player Somersault's into History
When you're on the world stage during one of the most watching sporting tournaments ever, sometimes you just want to do somersaults.
In Wednesday's match between Iran and Spain, with Iran trailing 1-0 into injury time, Mohammadi looked as though he would go for the long throw to try and even the score.
According to the FIFA website, Mohammadi is a player "renowned for his extraordinary speed and agility",
He decided to put that to the test. He lined up, kissed the ball, and proceeded to attempt a somersault throw-in.
And it failed.
Spectacularly.
Upon nailing the somersault (A+ for effort there bud), the defender's balance seemed off, and was forced to abandon the whole plan at the last second.
Iran failed to score in the final 20 seconds of the game, and the internet went wild.

Check it out below.
Kevin-Prince Boateng

✔

@KPBofficial

I love mohammadi #numberone

3:54 PM - Jun 20, 2018
Aadil

@aadilsham

I feel sorry for Mohammadi cause he's actually a good player but is just gonna be a meme now

4:03 PM - Jun 20, 2018
Twitter Ads info and privacyView image on Twitter
Will Gough

@Goughy_7

Mohammadi: "I should just do a normal long throw"

Inner Mohammadi: #IRAESP

4:08 PM - Jun 20, 2018
Jack Grimse

✔

@JackGrimse

hey Mohammadi did the flip, let's give him some credit

4:10 PM - Jun 20, 2018
shah

@shahr1zq

Mohammadi wasted so much time trying to do that throw in

3:55 PM - Jun 20, 2018
Farèd

@mofaridofficial

Mohammadi took 30 seconds to do a failed throw attempt via backflip in the #WorldCup . On last minute as well. What a legend. #IRN

4:01 PM - Jun 20, 2018